News
Open rehearsals
On the 13th and 20th of September, Salongsorkestern will have open rehearsals for those interested in joining the orchestra. If you play iolin, viola, cello, double bass, oboe, bassoon, horn or trombone you are extra welcome, but please get in touch regardless of which instrument you play. You will find us in Teatern (the Theatre) at Norrlands nation, on the basement level next to the nation library.
Facebook-event: Open rehearsals
If you want to come, just write us an email! Write in the email what instrument you play.
At the moment we are at full capacity in flute and clarinet. If you're interested in being on the waiting list, you're welcome to send us an email.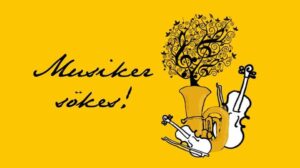 Salongsorkestern at Birdie, May 2019